US Compliant Investments
FATCA-Friendly Investment Opportunities
US Compliant Investments
Since 2012 all foreign banks and financial institutions have a legal obligation to disclose the balance and assets of any American clients to the IRS (following the implementation of the Foreign Account Tax Compliant Act, or FATCA).
FATCA stipulates that American citizens living abroad cannot invest in any form of PFIC (or Passive Foreign Investment Company); this includes funds, unit trusts and certain pension arrangements.
Since FATCA's introduction, a number of investment providers have worked to stay within the new rules, and it is now possible for American citizens living internationally to access a limited number of US-compliant investments.
Unsurprisingly, it's a pretty complex subject.
The team here at IWP are well-versed in suitable investment options for American investors. Together, we'll explore your options and give you honest, unbiased advice to get the best return on your investment.
How much do you need to retire?
How much do you need to retire?
Achieve financial freedom - and retire when you want to.
We help investors in Switzerland build assets and create passive income to replace formal employment.
By listening carefully, giving honest advice, and creating tailored investment plans, we help you achieve your long-term financial goals.
How much do you need to retire? Request your free guide now and find out with our simple 2-step process.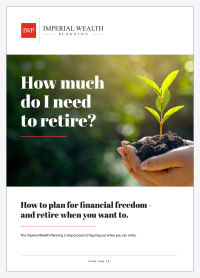 How much do you need to retire?
Truly professional & experienced team. Highly recommended to anyone looking for financial and wealth management advice.

Akhil Prabhu

Good straightforward planning advice. Highly recommended.

Paul Gibson

I was recommended IWP by a work colleague and have always been impressed. I wouldn't hesitate to recommend them to anyone seeking independent financial advice.

Paul