Children's Education
Give them the best start in life
Financial planning for your children's future
Children's Education
The next generation is often an individual's greatest investment. More time, energy and resources can go into our children than any other asset we have – whether that means a good education, the ability to start their own business, or a deposit for their first home.
For future generations, competition to succeed will be fiercer than ever before. Worldwide, higher education fees are at record highs, the level of education required to get a job is getting ever higher, property prices are increasing, and for budding entrepreneurs, the capital required to set up a new business is far higher than for previous generations.
Through careful financial planning it is possible to give your children the best start in life - and there's no better time than now.
By taking stock of what you're currently putting aside (or hoping to start saving) and looking at cost expectations for the future, you can accurately determine what action you need to take to provide the best start to adulthood for your children.
We have access to, and provide advice on, specialist tax-free products for this purpose – including capital guaranteed options. Our clients see an average of 3-6% return annually on their investments in this category - and with expert management, they provide an unrivalled opportunity.
If for any reason, your children no longer need or want the funds you've set aside, you can always transfer your investment into your retirement fund.
How much do you need to retire?
How much do you need to retire?
Achieve financial freedom - and retire when you want to.
We help investors in Switzerland build assets and create passive income to replace formal employment.
By listening carefully, giving honest advice, and creating tailored investment plans, we help you achieve your long-term financial goals.
How much do you need to retire? Request your free guide now and find out with our simple 2-step process.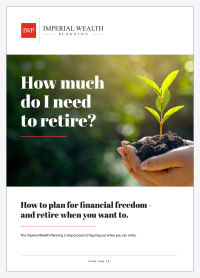 How much do you need to retire?
Truly professional & experienced team. Highly recommended to anyone looking for financial and wealth management advice.

Akhil Prabhu

Good straightforward planning advice. Highly recommended.

Paul Gibson

I was recommended IWP by a work colleague and have always been impressed. I wouldn't hesitate to recommend them to anyone seeking independent financial advice.

Paul